Description
Delaware County Land For Sale
This  71.85 acre bare land parcel is located midway between Dyersville and Manchester, with direct frontage and visibility from four lane Hwy. 20 which bounds the property on the south, while county gravel road 217th St. fronts the entire property on the north.   Quick and easy access, with only 1/2 mile to State Highways 20 & 38  from several field driveways.
The farm consists of high quality cropland in production, CRP acres and timber.   USDA records reflect 40.66 cropland acres in two fields, carrying  a weighted CSR2 of 82.7.   The cropland has very gentle slope (0% to 5%) with Kenyon & Clyde Floyd silt loams predominant.  100% of the farm is classified as NHEL  (Non Highly Erodible) by the NRCS.    An additional 10.4 acres of  land is enrolled in the Conservation Reserve Program with annual rental payments of $265.68/acre through September 30, 2024.   The remaining 20.8+- acres consists mostly of timber with a small stream running N/S through the center of property.
This property offers a mix of high quality- non highly erodible cropland,  CRP income, recreation along with several potential building sites.     CRP contracts expires on 9/30/2024.
This farm property has appeal to existing farmers looking to expand their cropland base or for buyers looking for income, recreation and/or residential building sites.   There is potential for residential development or commercial use.  Sellers prefer to sell the property as one parcel, however, may consider splitting the property.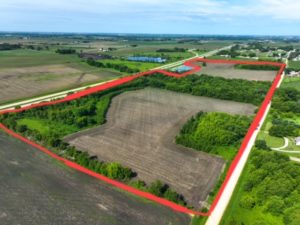 Property Address – 0 217th St.,  Manchester, Iowa  52057

Legal Description –  E1/4 SW SE & SE SE, Sec. 32 T89N, R4W ex as desc. B. S Pg 170 and SW SW Sec. 33, T89N R4W in the City of Delaware, Iowa

Total Taxable Acres – 71.85

USDA Effective Cropland Acres  – 40.66     Weighted CSR2 – 82.7

Cropland Soil Types – Kenyon & Clyde Floyd Loams   See Attached PDF for aerial, soil & tile maps.

CRP Acres – 10.4   ($265.68/acre, expiring on 9/30/2024)     Weighted CSR2 of CRP acres – 78.9

Topography is Level to Gently Sloping  – 0 to 5%    100%  NHEL  (Non Highly Erodible)

Wooded Acres w/Small Stream – 20.8+-

 Wetland Acres – 9    (1.7 acres is included in the 10.4 CRP acres and the 7.3 acre balance is included in the 20.8+- wooded acres. )

Four lane State Hwy. 20 Bounds the Property on the South.    State Hwy. 38 is 1/2 mile West.

County Gravel Road 217th St., Fronts the Entire Farm on the North and Provides Several Access Points

Quick and Easy Access to State Highways 20 & 38 from 217th St.

Building Improvements – Older Wd. Frame Quonset Machine Shed

Assessor Parcels – 480000400330, 480000403400, 480000403410

Closing & Possession Will Occur As Agreed After the 2022 Crop Has Been Harvested – Prior to 12/31/2022.

Buyers will receive all CRP payments beginning October 1, 2022

Open Cropland Lease for 2023.  Cropland is Under Lease and Cash Rented for 2022

Aerial, Soil & Tile Maps, CRP Contracts  Are Available – Open the PDF links below.

Property Taxes – $1,960

Price & Terms  – $725,000  $10,090/Acre       10% Earnest Money w/Offer Acceptance.   Balance at Closing
Please call the listing broker Gary Wegmann at 563-590-2425 with questions or for more detailed information.
Open the two following PDF links for more property information; aerial, soil and tile map, CRP contracts and USDA 156 EZ form.
Wegmann Real Estate
Gary J. Wegmann    Broker / Owner
Cell.  563-590-2425    Office – 563-923-7107
"We Bring People & Places Together"
All information regarding the subject property was collected from sources deemed reliable, however cannot be guaranteed by Wegmann Real Estate.
View on map / Neighborhood